3
minute read
The Internet – it's a way of life. Many of our day-to-day activities are dependent on access to the internet. It's how we communicate, work, and play. But even with our dependence on internet, a large portion of the American population doesn't have access to high-speed internet.

A staggering 39% of Americans living in a rural area, and 4% of our urban population, lack access to high-speed internet according to CNET. Not only do they lack access, but the disparity between their available internet options and high-speed internet options continue to grow.

The lack of access is mainly driven by high infrastructure costs and low population demands. This makes it cost-prohibitive to run cable lines in low population areas. But the good news is these barriers of entry don't hold true to fixed wireless internet. Without the need for a phone or cable line, fixed wireless internet has the ability to provide fiber-backed high-speed internet connections in underserved areas without the large upfront cost.
How Does Fixed Internet Work?
We provide Fixed Wireless Internet by using a wireless network to broadcast our internet signals from one access point to our customer's fixed location. Our main access points (the transmitters) can be affixed to cell towers or other high structures that have a high-speed fiber connection. The transmitters send the high-speed internet signals to receivers that are installed at our customer's property (typically on an exterior wall, chimney, or roof). Each transmitter can send an internet signal to multiple fixed locations.
Once the signal has reached our customer's property, the internet will be transmitted for use from the modem located inside the building. The Internet is then made available by connecting to the modem wirelessly or through a direct ethernet cable connection.
In most cases, our customers need to be within a 10-mile radius of an access point and have a line of sight from your reception device to one of our access points. There cannot be buildings or other large obstructions in the path of the receiver and transmitter.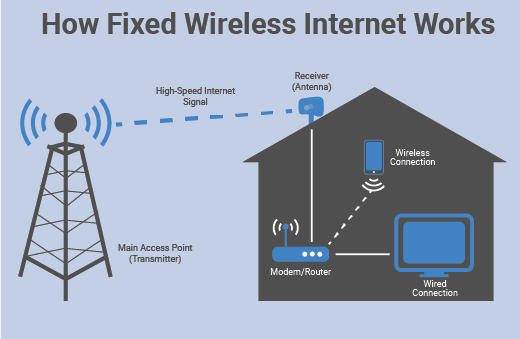 How is Fixed Wireless Internet Different From Satellite Internet?
Fixed wireless internet and satellite internet have a few similarities, but several key differences. First the similarities – both offer high-speed internet and require a receiver device to be installed at the customer's property. The main differences – fixed wireless internet isn't generally impacted by weather conditions and there aren't latency (lag time) issues. This is because fixed wireless signals are sent over a short distance, whereas satellite internet signals have a much greater distance to travel. Fixed wireless internet also doesn't have data caps, whereas satellite internet providers typically do have data caps.
The breakdown: Fixed Wireless Internet vs. Satellite Internet
Fixed Wireless Internet
High-speed capabilities
Not impacted by weather conditions
No latency issues
Unlimited data
Satellite Internet
High-speed capabilities
The signal is impacted by weather conditions
There can be latency issues
Typically have data caps
If you're one of the 39% rural Americans without reliable, high-speed internet and you're ready for a better solution, make the switch to fixed wireless internet. Give us a call or send us a message to get started with Upward Broadband.